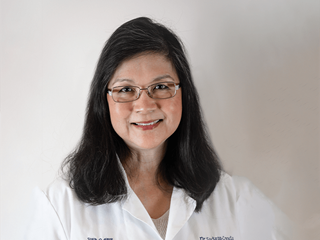 Dr. Janice Sadaya-Conda has been an internist in Alexandria, VA since 1995. She has been caring for her patients for over 25 years. Her goal is to provide the highest quality of care for her patients to enable them to have control of their health. Dr. Sadaya-Conda did medical residency training at Crozer Chester Medical Center in Pennsylvania and completed her residency training in Internal Medicine at Pennsylvania Hospital in Philadelphia where she also served as Assistant Instructor for the University of Pennsylvania School of Medicine. She received her degree in Bachelor of Science in Medical Technology at Velez College and her degree in Doctor of Medicine at the Cebu Institute of Medicine in the Philippines. She completed a postgraduate medical internship at the University of the Philippines Philippine General Hospital. When not practicing medicine, she enjoys spending time with her family and her dogs, reading and traveling.
Reviews
"Dr. Conda is an amazing caring doctor. She has been my primary care doctor for over 20 years. She is patient, a great listener and the best partner and advocate for my healthcare needs as her patient. She is open-minded when listening to your medical concerns being expressed and find solutions that will work for my needs. Dr. Conda is a kind,consideration and personable doctor which put me at ease, now that my daughter is an adult, she has transition to Dr. Conda's care as well and thinks she is as amazing I have I express during the 20+ years I have been her patient - she has what I like to remember as great bedside manner while being honest about my needs."
RR
Office Visit
"She was the first doctor that took her time to hear my problems. I spend 1 hour with her explaining my problems and she didnt judge or rush me out. she explained all my options and took care of my health issue. I highly recommend her because she knows what shes doing and care for her customers "
Anonymous
Healthgrades
"The doctor was so helpful and understanding!"
C.L.
Google
"Dr Conda is an excellent doctor. She is very kind, compassionate, genuinely concerned and listens to her patients. She does not rush and gives her patients a strong sense of security and trust."
Anonymous
Vitals
"Dr. Sadaya-Conda is the best primary care physician I've had in my 65 years. She is thorough, knowledgeable, kind, and actually takes the time to explain, ask questions, etc. This is how medicine should be."
L.R.
Google